Pick 4 winners all around with the Caribbean Lottery
---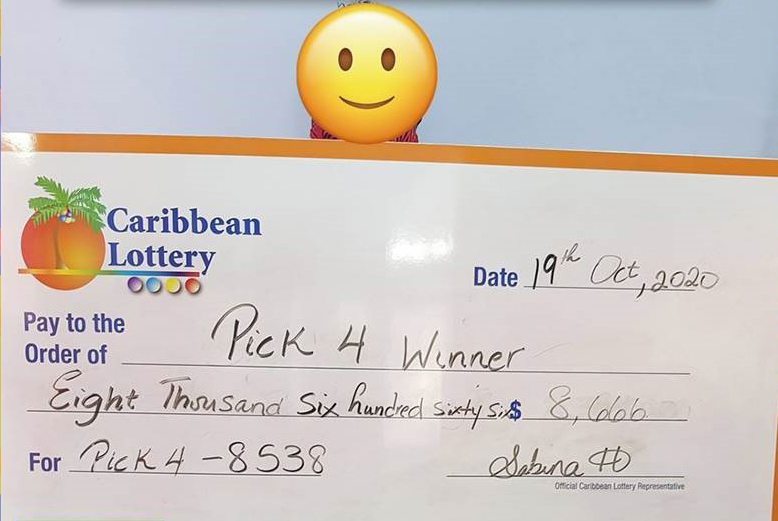 Pick 4 winners all around with the Caribbean Lottery
Basseterre, St. Kitts – November 1, 2020: Disguises on point and cheques in hand, three lucky Pick 4 players happily celebrated their recent wins totaling $45,982.00.
For 'Pick 4 Winner' her $8,666.00 win could not come at a better time. "I used to work for Marriott but I recently got terminated…the most money came when I definitely need it the most" she expressed. As with her previous win she purchased her winning ticket from D & B Innovations as she always has luck with the Retail Agent. She also stated: "A friend of mine called me saying he watched a 'bad' movie, and this was a number that kept reoccurring in the movie so he said I should play it. I'm shocked I won on it; I can't believe up to now."
As a first-time winner, 'Surprised Winner' was encouraged to keep playing due to the success of his friend numerous wins. "Honestly, I kept seeing the number 2202 everywhere. The license plate on the cars, the 24hr clock, it was obvious I decided to play it' he opinioned. Also, as a regular patron of D & B Innovations "I normally play there because I work nearby" he indicated. "This $25,000.00 win is timely, because I would like to do renovations for my home and this will be handy."
On a winning streak since 2018 with wins totaling $57,154.00, the 'Big Winner' lived up to the name with her recent win of $12,316. She shared that: "From the time the Caribbean Lottery opened, I begin playing until now. For this win I played at Indo Caribe #1, because he does bring me luck. Every day I buy number 7124, it's my special number. Ever since the Lottery began that's my number. This time I decided to bet extra on it around my birthday."
Office Manager at the Caribbean Lottery, Sabina Harrinarain happily congratulated the winners "Our Pick 4 winners are enthusiastic players, who remain committed to the game. We are assured that these big wins will continue into 2021."
With the clearing of debts, home renovations and savings on the horizon for the respective winners, Pick 4 will definitely remain a favourite game for all, and they each advise "Try your luck. Keep playing Pick 4. You can't want to win and not play."
-END-
About Caribbean Lottery:
Caribbean Lottery is a trade name registered and used by Caribbean Lottery Services, Inc. and affiliates that are wholly-owned subsidiaries of Providence, Rhode Island-based IGT. Caribbean Lottery™ is the contracted provider of Lottery services in St. Kitts & Nevis and in numerous other islands throughout the Caribbean.
The company provides a full suite of services including: game, product and technology development; retail point of sale solutions; communications channels; hardware, software, data storage and data center operations; financial transactional records in line with industry and worldwide best practices; retailer management and sales and marketing support.
The Caribbean Lottery™ is the only multi-currency, multi-national lottery in existence in the world today. Players are offered an exciting array of products in the Lotto category (Powerball, Mega Millions, Super Lotto, Lucky Pick), Daily Numbers category (Pick 3, Pick 4), Social Space category (Caribbean Keno) and Scratch Ticket category. The mission of the Caribbean Lottery is to raise money for the good causes allocated by the government as beneficiaries of the lottery and to do so in a responsible manner. For more information, please visit www.thecaribbeanlottery.com.